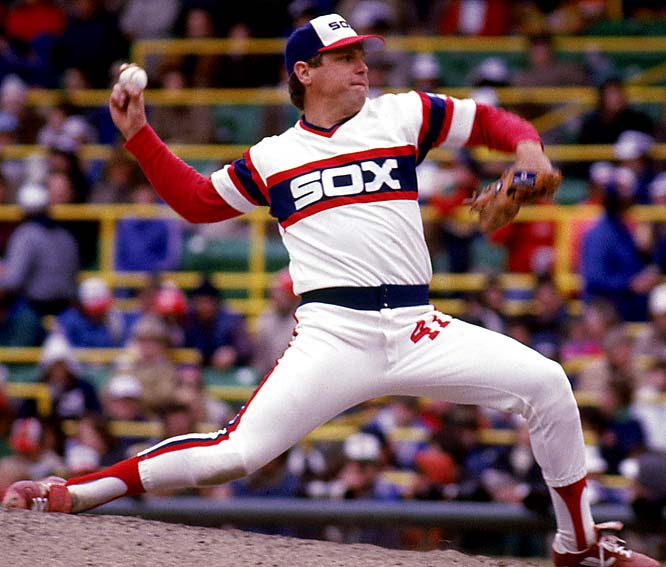 TOM SEAVER
THE CURSE OF THE BAMBINO, PART 9
"IT AIN'T OVER 'TIL IT'S OVER"...
Tom Seaver masters the Red Sox
April 12, 1986 ... Tom Seaver, the 41-year-old right-hander, hurled seven innings of four-hit ball, beating Boston, 3-1. Meanwhile, a five-hit, 11-strikeout, complete-game performance by Bruce Hurst was wasted.
Seaver has pitched in three major league towns and wants to move closer to his Connecticut home, but his baggage tags insist that his final destination will be Cooperstown, N.Y. after winning his 305th game. He threw 102 pitches, then gave way to Dave Schmidt, who faced the minimum six batters in the final two innings.
Former Red Sox outfielder Reid Nichols gave Seaver all the support he needed. Nichols singled home one run in the first inning and two more in the fifth. Three runs proved enough to give the White Sox their first victory of the season.
The White Sox tapped Hurst for a run in the first inning. Wayne Tolleson led with a triple to center and scored on a single to right by Nichols. Hurst retired the next three batters, getting Harold Baines and Ron Kittle (who struck out three times in three trips) on called third strikes.
Seaver mowed down the first seven Boston batters. Marty Barrett broke the string with a one-out single to center in the third. Then Ed Romero was hit on the right hand by a Seaver pitch. With two on and one out, Seaver fanned Dwight Evans with a jughandle curve. The runners moved up on a Joel Skinner passed ball, then Wade Boggs walked to load the bases. Bill Buckner (his first hitless game) lined to short, to end the threat.
Seaver didn't allow any baserunners in the fourth or fifth innings. Tony Armas hit a towering fly to left-center that was killed by the wind and came down in front of the 382-foot sign.
Hurst had trouble in the fifth inning. Skinner led with a shot back to the mound. The ball caromed of Hurst, and he didn't see it drop in front of him. Looking skyward, Hurst twirled in front of the mound trying to locate the ball as Skinner reached first. Hurst looked like a juggler who'd just seen all three beanbags vanish in mid-air. Ozzie Guillen followed with a bunt up the first-base line. Hurst pounced on the bunt and fired to first, where Marty Barrett dropped the ball. Both runners were safe and moved over when Tolleson grounded to Barrett.
Then Nichols struck again, driving a single to left, scoring Skinner and Guillen. Nichols was out going for two, but it was 3-0 and Seaver was working on a one-hitter.
Boston got its only run in the sixth inning. Evans led with a walk, took second on a ground-out to short by Boggs, moved to third on a ground-out to second by Buckner and scored his 1,000th career run when Jim Rice hit a hard single that Guillen speared behind second. Guillen threw wildly to first and Rice took second. Don Baylor popped up to end the inning.
Armas hit another shot into the teeth of the wind to lead off the seventh. Another out. Rich Gedman followed with a single off Seaver's leg, then Barrett singled to left. Gedman and Barrett died on base as Romero flied to center and Evans grounded to short.
Hurst was overpowering in his final three innings. He struck out the side in the sixth, got Greg Walker in the seventh and fanned Tolleson and Nichols (both looking) in the eighth. He retired the last 10 batters he faced.
Bill Buckner went into the game with one double in each of his last four games. After Friday's game, Buckner had ice bags strapped to his right shin and left elbow, plus he was soaking his left foot in a bucket of ice. He says he always likes a hotel room near an ice machine.
Ed Romero started his third straight game last night. McNamara wants to give Glenn Hoffman's right ankle more rest and knows that Hoffman will have to fly to California any minute. The Hoffmans are expected their first baby.